This is the up-to-date surcharge for fuel handled by DHL eCommerce.
Month and surcharge
Dec 2023: 17.50%
Nov 2023: 18.25%
Oct 2023: 17.50%
These surcharges are linked to the consumer price of diesel fuel (EU-27 standard) in local currency. Levies and taxes, as measured by the Directorate-General for Energy of the European Commission and published in the Oil Bulletin, have been included. The fuel surcharge applies to the transport rate and the transport related optional services and surcharges.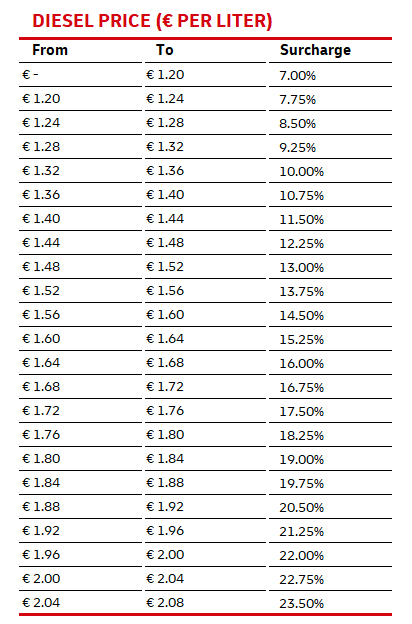 Due to the publication dates of fuel prices, we implement the surcharge at a delay of two months. Therefore, the latest fuel price publication in January determines the surcharge handled in March.
DHL eCommerce reserves the right to change the fuel surcharge index and table without notice.